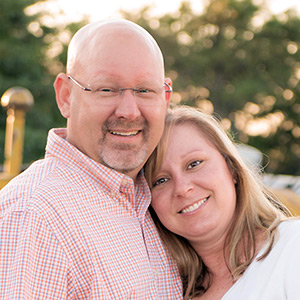 Dear Expectant Parent,
We are David and Lynae and if you have watched our whole video you saw our bloopers at the end. It took us multiple times to finally say what we wanted so we had a LOT of bloopers that needed to be cut out. Neither of us are very good at just talking in front of a camera to explain who we really are, so we are praying this will help you get to know us a little better.
We live in Colorado with a puppy named Barley and a cat named Marshall on acreage about 5 miles outside of a small town with a great community. We met at work about 12 years ago, are Christians and have been married since 2009. We love our life together and have so very much to offer a child. We have a great marriage with family and friends who are very supportive. They will certainly be present as we share in holiday traditions, cook from family recipes, enjoy vacations and celebrate life events. Our families taught us values, strong work ethics, respect, responsibility, friendship, honesty and how important family is. Our family consists of close friends along with grandparents, parents, aunts, uncles, siblings, and many cousins, nieces and nephews. We love traveling to Yellowstone and Mexico, going to the mountains for ski trips with friends and family, family reunions, weekend trips to closer destinations and just going to visit family.
I (David) am a very family and community oriented person. I am a very active member in the community, have been on the volunteer fire department for 20 years, restore antique tractors, help friends and family with projects, am on the town museum committee, Lynae and I help put on the town festival each summer and I love cooking. I have always loved taking equipment apart and putting it back together and now I am a lead mechanic on high speed packaging equipment. I am the 5th generation that was raised on the family farm where we now live. I am very proud of my family history and am looking forward to passing my history and values on to another generation.
I (Lynae) am the oldest, the youngest and the middle child and realize that needs some explanation. I was adopted and was raised as the youngest with two older brothers who were also adopted. I found my birthparents when I was 26 and am the oldest in in that family with two younger sisters. And if you put all my siblings together, I'm the middle child! I understand the adoptive side and my experiences as an adoptee helped us come to our decision to adopt. I have had a great life, a wonderfully big family growing up in the city and a whole other family I've gotten to know more over the last 20 years. I notice I have traits from both my adoptive family and birth families. It's amazing how much I am like my sisters even though I didn't grow up with them. I work in the medical field and love helping people. I enjoy family, learning photography, scrapbooking and crafts, organizing (kind of strange, I know), and I have a passion for traveling, decorating and doing projects in the yard.
We love living in the country. There is freedom here for a child to explore, room to garden and have livestock, play ball and make a tree house or fort. We are still close enough to bigger cities for their town pools and bigger parks with an easy day trip to the zoo, aquarium, stock show and children's museum. The mountains are close by for watching wildlife, hiking, sledding, skiing and Christmas tree hunting which is a family tradition. We have the best of both worlds! The smaller town we live outside of is ideal for children; it is small enough that kids can run around the park during our summer festival and ride their bikes around town. The school district has a great recreation program and small class sizes.
We love children's laughter, humor, smiles and their honesty. Even if they are having a bad day or not feeling well, we understand because we have days like that too. We love our lives together and pray that we can expand our family to include a child or children to love, will nurture them and help them grow to their potential and will do our best to help them have an amazing childhood and to become great adults. We thank you for taking the time to learn about us and our hearts go out to you as you continue your journey.
Blessings,
David and Lynae