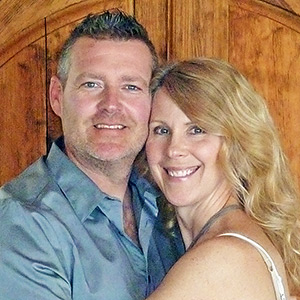 Dear Expectant Mother,
We think about you often and cannot wait to meet you. We pray that you are safe and healthy, that you are internally content and at peace with your choice of adoption for your baby. We appreciate your journey to make this ultimate decision and we want to thank you so much for choosing the option of life for your child.
It is hard to describe our feelings because they are so overwhelming, but to put it simply we are OVERJOYED about bringing your baby into our family through adoption. We'd love for you to know that you will fulfill our dream of raising a child together. I have always wanted to be a mom and was heartbroken to hear our doctor say that we likely wouldn't be able to have a child. It took us some time to really accept that news, but once we did it, brought us to the wonderful decision of adoption. Your most precious gift will be part of our happy home. It's important to us that you know that your baby will be cherished and loved by us, our family and our friends. There will never be a shortage of hugs and kisses for your baby. We are excited and are looking forward to every growing moment.
Here is a quick look at our life: we met in 2007 while both attending the same outdoor music concert. From that first meeting we have built a fun, happy life of learning patience, sacrifice and consideration for one another. We always try to have the most upbeat outlook. We love to laugh and don't take life for granted. Our home is filled with laughter and we love to share our life with our family, friends and most importantly Fred's two daughters, Summer (18) and Morgan (14). We want you to know that the girls are so excited about us expanding our family through adoption. Morgan, who has been the little sister her whole life is loving the idea of being a "big sister" and has already been picking out baby furniture, clothes and toys and coming up with decorating ideas for the baby's room.
During the summer months we love to spend time boating on our favorite lake. The kids and I (Lara) like to work on our wakeboarding skills and ride on the tube. We all enjoy fishing, swimming and stopping for a cookout. We also like outback camping trips where we canoe and hike into the wilderness with our gear on our backs. We've learned that with hard work comes great satisfaction. On those weekends when we are not off on an adventure we love working around our home. We have just bought our dream home on a beautiful river where we have plenty of space indoors and a large yard and woods to explore. Did I mention we are planning to build an awesome tree house? We enjoy landscaping, projecting and organizing and all the time, working to achieve these things together. When the lakes turn to ice and the snow falls, we still love our projects, but also enjoy hitting the trails for snowmobiling and ice fishing. Wintertime also gives us the opportunity to hang out at home and snuggle on the couch with a movie and popcorn or play board games with the kids.
You can probably tell from what we've shared that we are an active family. We love to experience life. We can't wait to meet you and thank you in person for completing our family.
With Love and appreciation,
Fred & Lara